Wróć na chwilę myślami do dzieciństwa. Pamiętasz jakieś urządzenie, bądź przedmiot zrobiony własnoręcznie? Prawdopodobnie sprawiał Ci sporo radości, mimo że był super prosty, a jego wykonanie kosztowało tyle, co rolka papieru toaletowego? Albo i nic, bo akurat samolot to był ze starej gazety, telefon ze zużytych puszek, lampion z plastikowych łyżek, a witraż z pudełka i bibuły. Ja też robiłam takie przedmioty. I bawiliśmy się nimi, bo nie mieliśmy jeszcze ajfonów.
DIY, czyli do it yourself  [zrób to sam]. To o tym będzie ten post.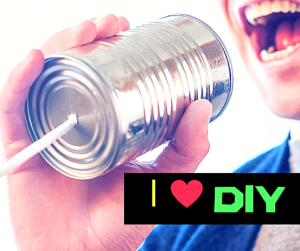 Co daje nam zabawa pod tytułem "zrób to sam"? Kiedy uczeń sam tworzy pomoce dydaktyczne:
a) czuje się ważny, bo angażujesz go w swoją działkę (zamiana ról)
b) pamięta dłużej, bo rzecz na której pracuje jest jego – zrobił ją samodzielnie, dokonał wyboru, nawet jeśli ten "wybór" dotyczył jedynie koloru, czcionki czy długości nitki (mózg pamięta to co związane z "JA")
c) jest bardziej zmotywowany, bo wie, że traktujesz go poważnie. Jest współkreatorem Twoich zajęć.
Ważne jest to, że przedmioty DIY zwykle są za darmo. 
Czy Ty też czujesz, że potrzebujesz nowych inspiracji i powiewu świeżości w swojej klasie? I też masz dość wydawania własnych pieniędzy na pomoce dydaktyczne? Przestawiam 5 pomysłów "coś z niczego" autorstwa Anieli, autorki bloga o kreatywnym uczeniu się i nauczaniu.
Aniela to skromna osoba, ale dla mnie zaiste jest królową DIY i pionierką budżetowej kreatywności. Jak sama przyznaje, motywem przewodnim twórczego podejścia jest stworzenie uczniom warunków do twórczej pracy po ich stronie, urozmaicającej lub nawet oderwanej od szablonowych zadań z podręcznika szkolnego i przeniesienie procesu uczenia się w kontekst bardziej zbliżony do realiów życia codziennego, bliskiego uczniom. Jak zobaczysz poniżej, niekoniecznie musi się to odbywać przy użyciu drogich pomocy dydaktycznych czy nowych technologii.
Znajdź alternatywę dla drogich pomocy dydaktycznych
Jak? Wykorzystaj przedmioty, które na pewno znajdziesz w domu! Mogą to być zabawki, okładki zapisanych zeszytów, papier prezentowy, gry, plansze, klocki, rulony po folii do pieczenia, ilustracje z gazetek reklamowych, plastikowe spinacze, wykałaczki, suche liście czy co tam jeszcze wynajdziesz. Ważne, żeby było to coś odległego od skostniałego podręcznika, który i tak i tak trzeba będzie koniec końców przerobić. Poznaj pomysły na atrakcyjną i tanią naukę!
Pomysł #1  KOSTKA RUBIKA do utrwalania zawiłości języka

Co w tym tygodniu wprowadzasz na zajęciach? Nowe słownictwo związane z garderobą? Aktywności związane z domem? Wydrukuj obrazki w pomniejszonych wersjach na jednej karcie, napisy na drugiej. Naklej powstałe wydruki na poszczególne części kostki rubika. Najlepiej, jeśli uczniowie stworzą własne.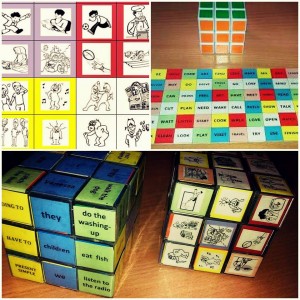 Przykład: Pomysł polega na tym, że zamieszczamy na poszczególnych ściankach kostek słowa, zwroty, definicje, frazy czy też obrazki, a uczeń manipuluje kostką tak, aby ułożyć w całość treści, na których nam zależy.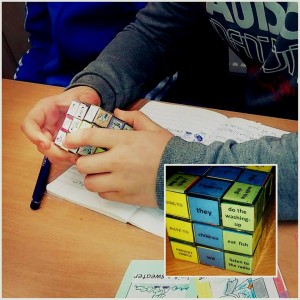 Gotowe do wydruku karty, które możesz nakleić na kostkę znajdziesz tu.
Pomysł #2 LEKSYKALNE SZASZŁYKI
Robisz lekcję o jedzeniu? Potrzebne Ci warzywa, owoce, inne produkty? Nic prostszego! Pędź do pobliskiego sklepu, przecież dzieci najlepiej uczą się na realiach! Nadźwigasz się trochę, a Twój kręgosłup Ci to wynagrodzi podczas zajęć, kiedy będziesz się starać wyprostować trzymając za bok. Taki scenariusz to tylko na praktykach. Każdy szanujący się nauczyciel wie, że może użyć sprytu. Przepraszam, czego? Lekkich jak piórko zdjęć i wycinek, a największy sekret tkwi w tym, co takiego z nimi zrobi. Przynieś parę takich wyciętych gazecianych "warzywek", ponabijaj je na patyczki do szaszłyków i gotowe.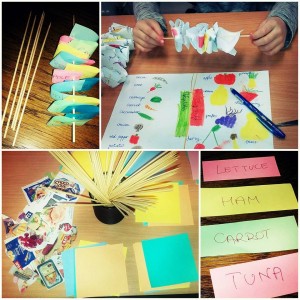 Przykład:
każdy uczeń przygotowuje określoną ilość mini fiszek z nazwami produktów lub obrazki wycięte z gazetki reklamowej z produktami spożywczymi
nauczyciel dyktuje w formie pojedynczych słów lub w formie rozbudowanych zdań, jakie produkty mają znaleźć się na patyczku
uczeń, który pierwszy przygotuje szaszłyka, wygrywa (nadzieje na patyczek odpowiednie produkty w poprawnej kolejności)
wersja z większą inicjatywą po stronie uczniów: uczeń przygotowuje szaszłyk według przepisu kolegi z ławki
Masz własny pomysł na szaszłyki? Twój komentarz pod postem mile widziany!
Pomysł #3 LEKCJE z FACEBOOKIEM wspomogą pisania NAUKĘ
Ściągamy i drukujemy ten
formularz
. Zachęcamy uczniów, aby w odpowiednich rubrykach dodali kilka informacji o sobie, mogą wstawić nawet swoje zdjęcie. W sekcji "What's on your mind?" wpisują dowolne treści.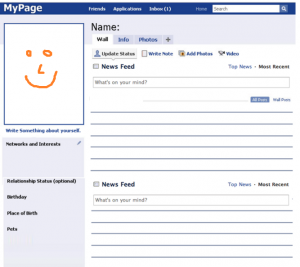 jeśli tematem ostatnich lekcji jest "CZŁOWIEK", tworzymy polecenia do pisania oscylujące wokół tego tematu , np.: jak się czują, dlaczego tak się czują, co się stało;
jeśli omawiamy "PODRÓŻOWANIE", uczniowie przygotowują wpis o wakacjach lub feriach wspominając o tym, gdzie są albo gdzie byli; co robią albo co robili,  czy im się podoba albo czy im się podobało;
jeśli jest to "JEDZENIE", uczniowie piszą co takiego i z kim jedli dziś na obiad, czy to było dobre, czy nie, ile to kosztowało, gdzie to jedli, itd.
jeśli chcemy powtórzyć kilka działów, to wykorzystujemy kartę do tego, aby uczniowie zamieścili na "wallu" informacje o różnorodnej tematyce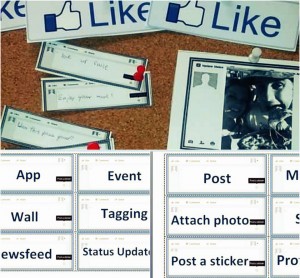 Możemy zachęcić uczniów do wymieniania się kartami – wówczas jeden uczeń pisze posta, a drugi zabierając kartę autorowi posta, wpisuje pod nim komentarz, po czym uczniowie znowu się wymieniają i dodają komentarze, tworząc wymianę zdań. W grupach maturalnych można zachęcić uczniów, aby wyrazili swoją opinię na dany temat i również wymieniali się kartami, tworząc pisemną wymianę zdań i imitując "fejsbukowe" posty i komentarze. Proste jak bułka z masłem, a ile frajdy. Taki "analogowy Facebook". Dodatkowe materiały pobierz tu.
Pomysł #4 POPLOTKUJMY w "gossip column"
Jak to przeprowadzić?
wydrukuj chmurki (gotowe szablony znajdziesz tutaj) i przygotuj zdjęcia celebrytów, najlepiej ze starych gazet
uczniowie tworzą dialogi na podstawie ilustracji
dialog powinien zawierać zdania wyrażające przeprosiny, sugestię, przyznawanie się do czegoś, itp.
zdjęcia i "chmurki" należy nakleić na kartkę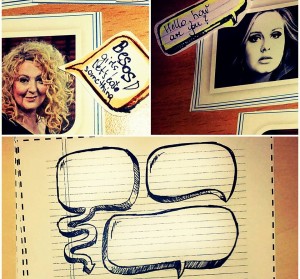 Jak stworzyć "gossip column"?
Przykład: ćwiczymy mowę zależną. W tym zadaniu wszystkie chwyty z Reported Speech są dozwolone. Z pomocą karty "gossip column" oraz ilustracji ukazujących celebrytów, uczniowie tworzą zdania imitujące treści portali lub gazet plotkarskich, zamieszczając zdania zarówno w mowie zależnej, jak i niezależnej. Gotowe dialogi będą służyły innym uczniom jako źródło zdań do przekształcenia w mowę zależną, do czego można użyć "comment bars". Gotowe materiały do pobrania i wydrukowania znajdziesz tu (wydrukujesz, klikając File -> Print).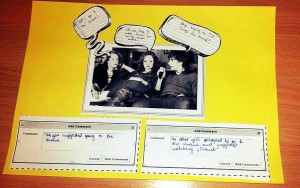 Pomysł #5 PUDEŁKO CZEKOLADEK na słodkie odpytywanie
W codziennej pracy z uczniami musimy w jakiś sposób sprawdzać ich postępy w nauce. Niestety, większość naszych podopiecznych odczuwa paraliżujący strach na samą myśl o "odpytywaniu". A przecież nie chcemy, by nasi uczniowie stresowali się na naszych zajęciach. No, może czasami 😉 Jak więc w sposób bezstresowy przeprowadzić tak zwaną odpytkę przy tablicy lub znaleźć alternatywę dla szarpiącej nerwy kartkówki, aby uczniowie nie zorientowali się, że są właśnie testowani, i zamiast skupiać się na opanowywaniu strachu, skupili się na efektywnym wykonaniu zadania?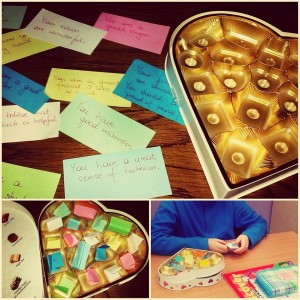 Proponowana forma wprowadzenia zadań sprawi, że tradycyjne "odpytywanie" straci swój stresogenny charakter i być może stanie się przyjemniejsze, i przyjazne dla ucznia.
Pomysł nadaje się do każdego rodzaju poziomów, stopnia zaawansowania i wieku uczniów.  Zadania przemycone w poniższy sposób mogą dotyczyć wszelkiego rodzaju tematów i zagadnień i obejmować:
– zadania gramatyczne
– słownictwo
– funkcje językowe
– pytania lub cytaty do konwersacji
– krótkie teksty z pytaniami
– polecenia z pisania
– zadania domowe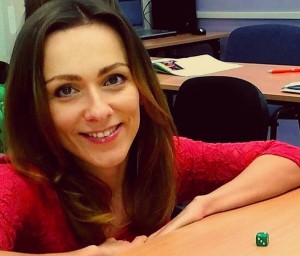 Aniela jest autorką bloga Kreatywne uczenie się i nauczanie języków obcych, na którym pisze jak zrobić, żeby się nie narobić, a odpalić prawie-fajerwerki przy szkolnej ławce. Niemożliwe? Zajrzyj na bloga Anieli, a się przekonasz.
Jeśli masz pomysły na niebanalną naukę języków obcych, skontaktuj się ze mną i kliknij tutaj.