Ten wpis poświęcony jest w całości nowej funkcjonalności Lerni Wordlists, dzięki któremu będziesz w prosty sposób tworzyć własne interaktywne listy słówek online. Będziesz je udostępniać na Facebooku, wysyłać poprzez maila, messengera lub korzystać z nich jako prezentacji na lekcji (np.: zamiast drukować i laminować flashcards).
Kliknij w strzałki poniżej, a potem "start learning":
Czy chcesz tworzyć takie listy samodzielnie? Jeśli tak, poniżej przeczytasz jak to zrobić.
Po co w ogóle tworzyć listy słówek?
No tak, powiesz, że to skostniała Grammar-Translation Method. Jeśli ktoś upchnął słówka losowo do jednej szufladki, bądź w porządku jedynie alfabetycznym, a nie semantycznym czy innym sensownym, wynikającym z głębszego przetworzenia danego słownictwa, to rzeczywiście może doświadczyć nagłych zaników pamięci, gdy natknie się na taki inwentarz "wylistowanych randomowo słówek".
I nie chodzi tu o to, że słówka nie powinny być wpisywane na jedną listę ze względu na podobieństwo ich brzmienia czy pisowni, bo jak dowodzą badania, takie podejście też nie służy mózgowi (czyli słów takich jak pig, pic, pink, punk i prank nie powinno się umieszczać na jednej liście; prędzej pomoże semantyczne ich połączenie: pig, rooster, cow, rabbit, etc.). Chodzi bardziej o to, by każdy robił własne autorskie listy słówek. Dlaczego? Bo to jest tak jak ze ściągą. Ci, którzy ściągę napisali skorzystają z niej efektywniej, ponieważ ona zawiera ich własne skróty myślowe (dostęp do informacji będzie łatwy). Skróty i skojarzenia stosujemy, bo nie da się przecież przepisać całego podręcznika na malutką ściągę! Lerni Wordlists to właśnie takie małe ściągi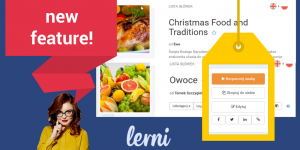 Przetwarzanie słownictwa
Co to znaczy, że słówko jest głębiej przetworzone? Tak jak w przemyśle spożywczym – im bardziej się w procesie produkcji przetwarza żywność, tym większe zmiany zachodzą w strukturze produktu. Im bardziej manipulujemy słówkiem, tym głębiej ono będzie przetworzone, ponieważ żeby je zapamiętać mózg wytworzył nowe połączenia neuronalne. Tym samym doszło do mikro zmian w mózgu. Przykładem manipulowania nowo poznanymi słówkami może być ćwiczenie typu ułóż zdania z tymi słówkami. Zdania mogą być po angielsku, po polsku, mogą być absurdalne lub komiczne, mogą zawierać definicję danego słówka, ale też mogą być całkowicie fałszywe i wymagać od nas uzasadnienia dlaczego.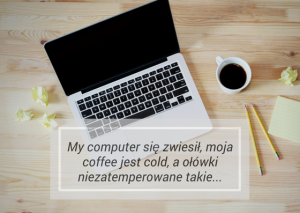 Jeśli nauczyciel zdaje sobie sprawę z zasady głębokości przetwarzania słownictwa, będzie się starał implementować tego typu ćwiczenia przy okazji uczenia leksyki.
Twój własny mini e-learning
Narzędzie Lerni Wordlists pomoże Ci przerzucić do chmury pomysły na lekcje i zbiory słów potrzebnych do jej przeprowadzenia. Narzędzie ma sporo wbudowanych funkcji, które przybliżę w dalszej części postu. Nie mówię, że Lerni Wordlists jest panaceum na całe gramatyczno-leksykalne zło out there, ale na pewno pozwala w fajny i prosty sposób użyć social media i sfery online do tworzenia własnych mini e-learningów, do których możesz wrócić kiedy chcesz za pomocą jednego kliknięcia w link

Gotowe linki do autorskich list słówek możesz "szerować" na Fb – czy to na ścianie czy w grupie, możesz używać ich zamiast wydrukowanych obrazków jako prezentacji na zajęcia – czy to na tablicy interaktywnej czy wyświetlając je za pomocą zwykłego projektora. Możesz też przesłać konkretną listę słówek uczniom mailowo, lub jeśli nie znasz ich maili, zapisz na tablicy skrócony link do listy, by mogli sobie go przepisać do zeszytu. Zrobisz to w serwisie bitly – tu sprawdzisz też ilu uczniów kliknęło/zobaczyło Twoją listę. Jak?
Długaśny i niezgrabny link do listy "winter sports"
https://lerni.us/wordlists/show/id/124/title/winter-sports
skracam w bitly do takiego rozmiaru:
i bez problemu można go już teraz podyktować lub przepisać z tablicy [i nawet wpisać do telefonu]

[żeby sobie wpisać własny tekst po ukośniku typu "winterlerni" lub "zimaSP13", należy się zarejestrować – jest to darmowy serwis, polecam to zrobić]
---
Najlepszym jednak sposobem na nauczanie jest delegowanie. Zadaj uczniom stworzenie własnych list słówek. Pozwól im samodzielnie wybrać zdjęcia do słówek, które przerabiacie i stworzyć autorskie materiały e-learningowe, do których będziecie z przyjemnością wracać. To wciąga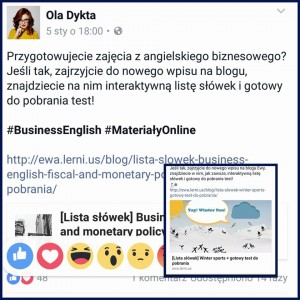 Odpalaj kompa! Tworzymy interaktywną listę słówek 
Zaloguj się do Lerni na lerni.us/register 
Do panelu listy słówek mamy dostęp przez opcję "lista słówek" w granatowym pasku u góry, po zalogowaniu się  do Lerni. Przechodzimy tam za pomocą przycisku "create", bądź klikając w okno:

Zanim otworzy się edytor listy słówek, należy określić tytuł listy, poziom trudności, język docelowy oraz język tłumaczenia. Możesz na przykład stworzyć listę owocową – zawierającą słówka angielskie i ich tłumaczenia w języku polskim.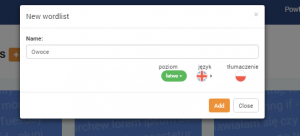 3. Przechodzimy do widoku: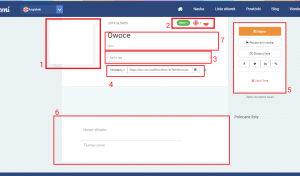 1) tutaj wrzucasz zdjęcie profilowe Twojej listy słówek [zdjęcie profilowe można wgrać na 3 sposoby: podać bezpośredni link www do obrazu, wgrać  z komputera, bądź wybrać jedno z proponowanych przez system zdjęć – opcja "proponowane"]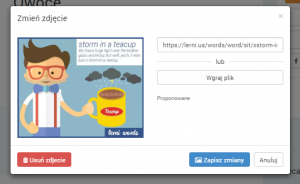 2) tu wybierasz język listy oraz język tłumaczenia
3) tu dodajesz tagi charakterystyczne dla Twojej listy, np.: school, furniture [uczeń przeglądając Twoją listę po kliknięciu w tag uzyska dostęp do wszystkich list na Lerni zawierających taki tag]
4) w tym oknie udostępniasz listę na zewnątrz [przesyłasz uczniom/sobie link bezpośrednio do listy, bądź – korzystając z kodu HTML – umieszczasz moduł powtórkowy na stronie www swojej szkoły czy też blogu]  


Jeśli skopiujesz link HTML-owy do siebie, czyli taki:
<iframe width="100%" height="430″ src="https://lerni.us//wordlists/embed/id/124/title/winter-sports?MWID=wordlist_801103_124″ style="border: 0px;"></iframe>
to Twoje Lerni Wordlist będzie tak wyglądała na Twojej stronie www (kliknij by zobaczyć, że lista jest interaktywna):

5) tu zapisujesz listę, kopiujesz i udostępniasz na popularnych portalach społecznościowych [możesz nie tylko skopiować, ale też usunąć niepotrzebną listę]
6) tu wprowadzasz kolejno słowa [po wpisaniu słówka automatycznie pojawi się kolejne okienko z możliwością dodania nowego]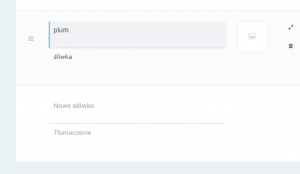 Po dodaniu słówka mamy możliwość dodania obrazu (panel analogiczny do panelu dodawania zdjęcia profilowego listy), usunięcia jej, bądź dodania szczegółów. Ekran ze szczegółami danego słówka otwieramy za pomocą ikony ukośnej strzały: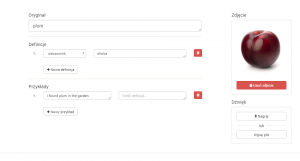 W oknie mamy możliwość dodania szczegółów związanych ze słówkiem: nagranie z wymową, dodać info o części mowy, kilka definicji (jeśli słowo ma kilka znaczeń), przykłady (zdania). Okno daje możliwość zmiany tytułu listy oraz dodania do niej krótkiego opisu.
Po zapisaniu listy zobaczysz okno, do którego będą miały dostęp osoby nie będące autorem listy (np.: Twoi uczniowie). Voilà! Mogą już się z niej uczyć


Po kliknięciu w szczegóły słówka, widoczne są oczywiście wszystkie wprowadzone przez Ciebie dane: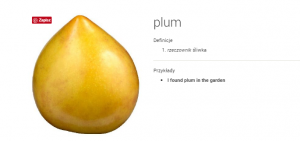 Po kliknięciu w przycisk "rozpocznij naukę" uruchamia się… test!

Test, czyli to co nauczyciele lubią najbardziej 😉
Przed rozpoczęciem testu, użytkownik ma możliwość ponownego zapoznania się ze słówkami oraz tłumaczeniami. Kliknięcie w przycisk "rozpocznij naukę" uruchomi test. Pojawi się okno, w którym będą pojawiać się pojedyncze słówka. Zadaniem ucznia jest wpisanie poprawnego tłumaczenia. Zatwierdzić wybór można przyciskiem bądź klawiszem ENTER.

Masz własną stronę szkoły językowej lub bloga? Moduł testu sprawdzającego można bezpośrednio wdrożyć na prywatnej stronie internetowej www / blogu za pomocą kodu HTML, dostępnego pod przyciskiem udostępnij. Może Ci to posłużyć jako materiał zachęcający Twoich klientów do nauki.
Dobrej zabawy z Lerni Wordlists!

Dajcie znać jak Wam poszło

Ola.