Nowy rok szkolny już się zaczął, a ja mam dla Was niespodziankę – możecie stworzyć sobie zupełnie za darmo swoje własne nauczycielskie konta na platformie językowej Lerni – wystarczy, że odwiedzicie stronę lerni.us/code i aktywujecie kod promocyjny "nowyrok".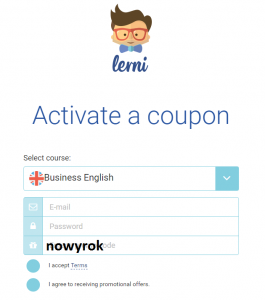 W prezencie otrzymacie dostęp do Lerni – całego pakietu premium. Co to oznacza? Od tej pory masz do dyspozycji wszystkie dostępne języki, wszelkie funkcjonalności i możesz zapraszać kogo chcesz – ten dostęp  będzie trwał do końca października. Po tym okresie Twoje konto, utworzone wirtualne klasy, zaproszeni uczniowie pozostaną, ale będziesz mieć dostęp do 70% całej zawartości platformy.
Czym jest Lerni?
To platforma, na której możesz zadawać zadania, tworzyć klasy i uczyć (się) języków obcych: angielskiego, niemieckiego, francuskiego, hiszpańskiego, włoskiego. Jest interaktywnym, zgrywalizowanym sposobem na przyjemną i całkiem nieprzykrą naukę języka. Co więcej, jest zintegrowana z apką Lerni, którą możesz ściagnąć na Androida.
Zakładamy darmowe konto na Lerni
Konto możesz założyć w prosty sposób i jest ono całkowicie bezpłatne. Chcesz założyć własne konto na lerni? Klik i załatwione! Ten link działa 24 /7

Posiadając takie konto masz możliwość dodawania innych (ucznia, męża, znajomej, męża znajomej, sąsiadki, etc.), wystarczy posiadać konto nauczycielskie (kod: nowyrok) i…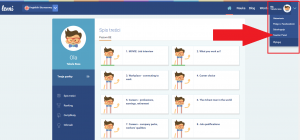 Po zalogowaniu się/rejestracji wejdź w zakładkę "teacher panel" – znajduje się w prawym górnym rogu.
Wchodzimy w opcję "groups" czyli tworzenie wirtualnych klas – tutaj nazwij swoją klasę jak masz ochotę, a następnie zauważ, że wygeneruje się dla niej magiczny kod – ten kod zapisz na tablicy lub wydrukuj i rozdaj uczniom – wchodząc na lerni.us/code będą mogli go wpisać i uzyskają pełen dostęp do platformy. Będą mogli otrzymywać zadawane przez Ciebie zadania, grać w gry językowe, uczyć się słownictwa, etc.
Podziel się kodem z innymi nauczycielami języków obcych

---