W tym roku postanowiłam dołączyć do akcji High Five, więc dzielę się moimi pięcioma wiosennymi pomysłami . Stworzyłam wpis z pięcioma sposobami na rzeczywistość rozszerzoną na zajęciach językowych.
Augmented Reality (AR) czyli rzeczywistość rozszerzona to dziedzina technologii, która już teraz znajduje swoje wspaniałe zresztą zastosowanie w edukacji. Jest coraz więcej aplikacji mobilnych, które mogą pomóc nam zabawić uczniów, urozmaicić przewidywalne pisanie czy mówienie, zilustrować omawiany materiał językowy, a nawet uratować lekcję.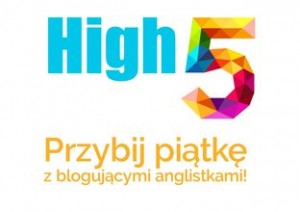 "Nie znam się na tym, to nie dla mnie" powiesz. Jednak mam zupełnie inną wiadomość: Ściągnij aplikację, skieruj kamerę swojego urządzenia na to co ma być za pomocą tej aplikacji ożywione.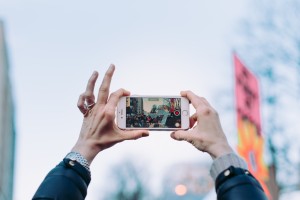 Aplikacje AR rozpozna ten obiekt i wygeneruje Ci animację 3D lub film i nałoży go na to, co jest na ekranie aparatu (w tle może być klasa, łąka, Ty i uczniowie – zależy od tego, co będzie w obiektywie aparatu). Efekt generowany komputerowo wygląda niesamowicie i budzi jeszcze większe emocje. Koniecznie czytaj po co i jak to zrobić poniżej.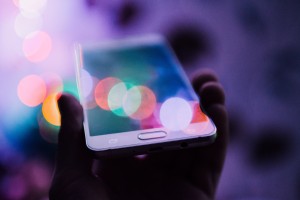 Po co używać AR?
PO PIERWSZE
Pretekst, by wyjść na zewnątrz
I w końcu zażyć witaminy D. Wiosna, ach to ty!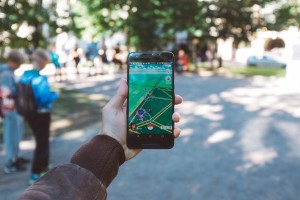 PO DRUGIE
Doświadczenie sensoryczne bez wielkiego wysiłku
Przerabiasz warzywa i owoce? "Realia" myślisz. I idziesz do sklepu kupić kilka marchewek, ogórka i ziemniaka, żeby było atrakcyjniej, zabawniej, weselej. Ożywione postaci możesz dotknąć, usłyszeć, a ruszając telefonem widzisz zmieniające się tło – doświadczenie na wielu poziomach! Można też robić uczniom zdjęcia z ożywionymi stworkami czy zwierzątkami, które mogą posłużyć np. do storytellingu później.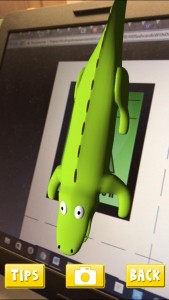 PO TRZECIE
TPR-owe zajęcia plenerowe
Goniąc króliczka, szukając ukrytych obiektów do ożywienia i zrobienia sobie z nimi zdjęcia oczywiście stymulujemy inteligencję kinetyczną i szybciej zapamiętujemy informacje. Pomysłem na zabawę może tu być, np.: uzbieranie wszystkich pokemonów, zeskanowanie wszystkich pisanek (egg hunting) znalezionych na łące i zrobienie im zdjęcia lub znalezienie wszystkich zwierzątek ukrytych na boisku szkolnym i zrobienie sobie z nimi zdjęcia, a potem jego opisanie. Jeśli mamy tylko np.: dwa-trzy telefony, możemy podzielić klasę na teamy i każdemu teamowi zlecić wyszukanie konkretnego obiektu który wcześniej opiszemy im w języku obcym oczywiście (tak, to listening – ale jaki fajny!).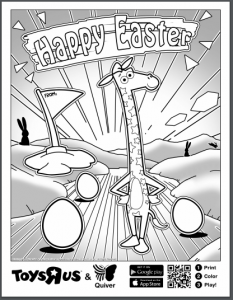 Możesz zadać takie zadanie z pisankami – wiosną bardzo lubimy takie wielkanocne zadania: na dole tego posta znajdziesz więcej gotowych PDFów, które należy pokolorować i ożywić (jak ten tutaj).
 quiver – ściągnij PDF na Wielkanoc
PO CZWARTE
Ćwiczenia językowe
Opisujemy wygląd bohaterów ożywionych za pomocą AR.
Tworzymy historyjki – dorabianie historii do scenek, które zobaczymy za pomocą aplikacji.
Nazywamy bohatera, nadajemy mu supermoce, cechy charakteru, pseudonim.
Piszemy list do zwierzątka, bohatera czy innej postaci "wskrzeszonej" za pomocą AR.
Robimy foto ze stworzonym przez siebie bohaterem i je opisujemy.
Bardzo często w aplikacje AR wymagają uprzedniego ściągnięcia, wydrukowania i pokolorowania danej kolorowanki. Dopiero wtedy skanujemy obiekt i możemy doświadczyć rzeczywistości rozszerzonej – rekomenduję wykorzystać to jako ćwiczenie typu colour dictation.
PO PIĄTE
Jako nagrodę
Możemy stosować AR jako jedynie przerywnik, nagrodę, motywator – zwłaszcza jeśli nie dysponujemy wieloma tabletami na lekcji bądź mamy tylko jeden (i to na dodatek swój tylko smartfon z odpowiednim oprogramowaniem: najczęściej iOS lub Android).
Niektóre aplikacje oferują nam darmowe pakiety kolorowych kart pracy. Są one w formacie PDF i gotowe do wydrukowania. Jeśli nie chcemy drukować kart, możemy obrazki po prostu wyświetlić na ekranie tabletu, monitorze komputera  lub na ścianie, za pomocą projektora. Wtedy tylko uruchamiamy aplikację na telefonie i "skanujemy" przykładając go do wyświetlanego (lub wydrukowanego) obrazka, by ożywić widniejącą na nim daną postać.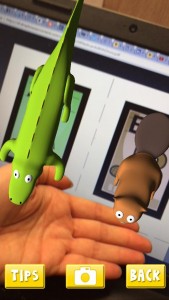 Poniżej przykłady godne polecenia:
Przykład 1:
apka AR Flashcards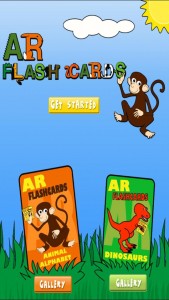 Jak używać?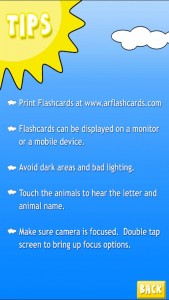 Drukujemy bądź wyświetlamy na ścianie kolorowe obrazki, które należy ożywić za pomocą uruchomionej apki (kliknąć wewnątrz aplikacji button "get started" – automatycznie wyrzuci nas do podglądu kamery i już możemy manewrować telefonem znajdując odpowiednią odległość od obrazu, by ten mógł być przechwycony przez kamerę i ożywiony).
Obrazki do ożywiania, które kryją w sobie "uśpione" postaci i zwierzątka: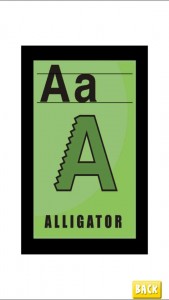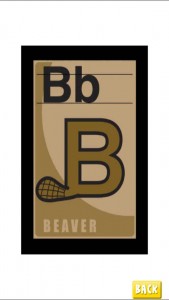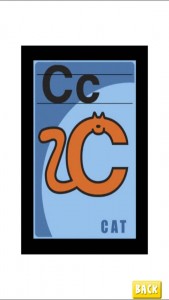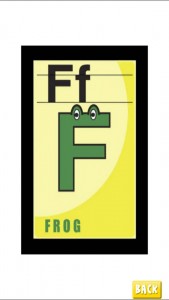 Jak to wygląda po "ożywieniu":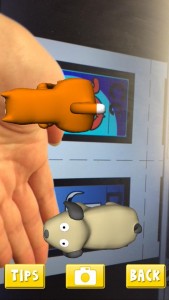 Skąd bierzemy kolorowanki do wydrukowania?
Stąd ściągniesz kolorowe PDF-y ze zwierzątkami i alfabetem:
Przykład 2: Aurasma
Jak używać? Obejrzyj filmik z Edytą

Przykład 3: Quiver
Jak używać?
Drukujemy piękne darmowe kolorowanki, które dzieci kolorują wedle własnego gustu lub zgodnie z naszymi instrukcjami (np.: colour the head red, and the nose pink), zależy oczywiście od tego czego uczymy na danej lekcji. Następnie uruchamiamy aplikację na smartfonie bądź tablecie i "skanujemy" pokolorowany obrazek. Postaci/zwierzątka ożywiają się i zaczynają poruszać. Frajda i efekt WOW murowane!
Jak to wygląda po "ożywieniu"?
Zobacz ten filmik – WARTO!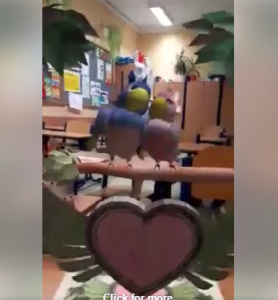 Skąd bierzemy kolorowanki do wydrukowania jak na filmiku?
Tu znajdziesz kolorowanki 3D do ożywienia.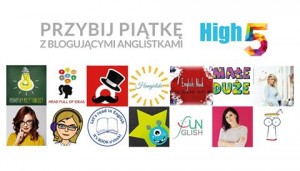 Zapraszam do wiosennej lektury pozostałych wpisów z akcji High Five

Edyta Pikulska – 5 wiosennych muzycznych inspiracji
Englishake – 5 kroków do zdania egzaminu! Sposób na wiosenne powtórki przedegzaminacyjne
English Freak – 5 wiosennych kart pracy
English-Nook – 5 brytyjskich tradycji wiosennych
English Tea Time – 5 wiosennych ćwiczeń językowych poziom A2/B1
Ewa Szymkowiak – 5 zabaw na świeżym powietrzu
Funglish – 5 pomysłów na wiosenny speaking
Hangielski – 5 wiosennych gadżetów na zajęcia z dziećmi
Head Full of Ideas – Wiosenne puzzle w 5 odsłonach
Let's read in English – SPRING into READING – czyli 5 wiosennych propozycji książkowych
Londonopoly – 5 wiosennych gier do druku na zajęcia z dziećmi
Małe duże – 5 wiosennych zabaw w sali
Pomysły przy tablicy – 5 wiosennych gier z klamerkami