Dzisiaj 5 pomysłów na godzinę angielskiego o tematyce wyborów w USA!
Ameryka wybrała nowego prezydenta. 45. Prezydentem Stanów Zjednoczonych został Donald Trump, który pokonał kontrkandydatkę Hillary Clinton. Stety czy niestety, jest to postać wyjątkowa i na pewno warta uwagi. Nikt nie zaprzeczy, że Trump budzi wielkie emocje i jest dość kontrowersyjny.
Moim zdaniem jest to idealny temat na konwersacje – przygotowałam w tym celu materiały do ściągnięcia oraz parę linków i źródeł, z których zachęcam skorzystać póki temat aktualny, a kurz postwyborczy jeszcze nie opadł.
1. Słówka
Jeśli planujesz lekcję dotyczącą polityki lub związanej z wyborami pamiętaj, żeby uczniów oswoić z tematyką wcześniej, jest to bowiem dość trudny temat i niekoniecznie muszą być na bieżąco z wynikami wyborów w USA. Możesz to zrobić poprzez np.:
Każda lista słówek zawiera przykłady z życia wzięte i zadanie na słownictwo do wykonania – wystarczy kliknąć w linki.
2. Teksty autentyczne
Warto rozesłać je uczniom jako zadanie domowe przed zajęciami lub zaraz po nich. Mogą posłużyć jako inspiracja, bądź źródło wiedzy na temat wyborów. Źródła autentyczne są zawsze najlepszym i sprawdzonym sposobem na wzbudzenie ciekawości poznawczej, a także przyswojenia nowych słów. Teksty, które polecam (kliknij w nazwy poniżej, by przenieść się do konkretnego materiału):
Artykuł z BBC
USA Today – Trump Nation
Wall Street Journal
The Tab
Mashable – trochę więcej liczb, danych demograficznych, cyfr.
3. Memy
Uwielbiane przez uczniów wyrazy komunikacji mogą Ci posłużyć jako pomoce do wywołania dyskusji bądź rozgrzewka przed pracą w grupach. Wydrukuj i rozdaj każdej parze innego mema, a potem pozwól uczniom wymieniać się obrazkami. Jeśli nie masz czasu na drukowanie, możesz wyświetlić obrazki na projektorze i zachęcić do dyskusji na ich temat.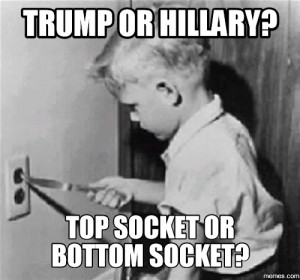 Najlepsze memy wyborów w USA – tutaj znajdziesz krótki filmik-prezentację z najbardziej rozpoznawalnymi memami z wyborów prezydenckich. Ich geneza jest tu wyjaśniona bardzo obrazowo. Polecam!
Wybory w kilku ciekawych rysunkach – tutaj znajdziesz zmuszające do myślenia prace, rysunki i komiksy dotyczące wyborów w USA. Możesz je wydrukować i rozdać uczniom, by je zinterpretowali.
4. Cytaty i wypowiedzi
Krótkie cytaty i wypowiedzi znanych osób są najszybszym sposobem na rozgrzanie aparatu mowy. Kliknij ikonę PDF, by sciągnąć plik pełen grafik i cytatów Trumpa gotowych do wydrukowania na konwersacje.

5. Filmiki
Nie ma to jak śmieszne, smutne lub dziwaczne filmiki obrazujące przebieg tegorocznych wyborów w USA. Warunki są dwa:
• filmik ma być krótki (dłuższe niż 3-4 minuty mogą nużyć, jeśli nie są wartko przeplatane pytaniami/zadaniami)
• filmik ma budzić emocje (im bardziej porusza emocje, tym łatwiej go zapamiętać)
Wybrałam trzy filmiki, które mogą posłużyć jako rozgrzewka, bądź intro do konwersacji. Do wyboru do koloru

a) Simpsonowie + Trump – Trump 16 lat temu w odcinku kreskówki Simpsonowie: znajdziesz tu filmik + krótki tekst
b) Tutaj dość zabawny filmik ze znanego talk show, w którym podawane są cytaty Trumpa, a uczestnicy komentują te cytaty nie wiedząc, kto jest ich autorem.
c) I na koniec filmik, który podbił internet, a mianowicie debata Clinton vs. Trump w wersji Dirty Dancing:
Jeśli masz inne źródła, które Twoim zdaniem mogą być inspiracją na zajęcia, podziel się z nami w komentarzu

Pozdrawiam wyborczo!